Kick the habit,
keep the ritual
CBD cigarettes and pre-rolls. Nicotine-free and tobacco-free.
Shop Now
42 day money back guarantee
40k+ happy customers
Ships within 24 hours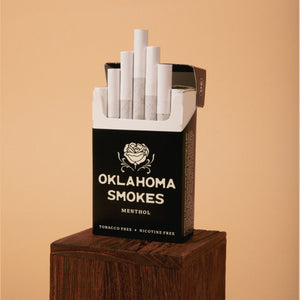 Relief and ritual without the nicotine
Enjoy the same experience and feel of a cigarette, without the nicotine.
Shop Smokes
Kick your anxious high, keep your ritual
Premium CBD flower pre-rolls for a calming and familiar smoke, without the anxiety, mental fogginess, or uneasy high.
Shop Pre-Rolls
What y'all are saying about Oklahoma Smokes
I quit cigs after 40 years
I'm so thankful for Oklahoma smokes. I've tried everything over 40 years to quit. Now I'm 3 months in and I don't need a cig. If I have a craving, I light up an Oklahoma smoke. If fulfills the habbit of smoking without the addictive nicotine. I still get to do my familiar rituals of walking the dogs in the evening with a smoke. I still get to hang outside with smoker friends. Since I've broken my addition to nicotine, I smoke way less than before because I'm not an addict. I now can just enjoy the smoke for what it was - a 5 minute break from the world.
Catherine S • 3/30/22
I've been smoking cigarettes for over 10 years now and OK Smokes are by far the BEST alternative that I've found to help me quit. After trying a few packs, I decided to buy a carton to take with me on my week-long vacation and make it my mission to start my final quitting journey. They kept me calm, fulfilled, and my non-smoker friends didn't even mind them because they smell so much better than cigarettes. THANK YOU!
Niki • 4/21/22
The BEST way to kick your habit
I've been struggling with quitting vaping for about 3 or so years, and I tried just about everything but nothing stuck. I stumbled across the smokes about 2 days into quitting and it's been my easiest try at quitting to date. I'd use them with nicotine lozenges to ease the withdrawals. The benefit to these is it removes the convenience of vaping, so instead of sitting inside and being able to hit my vape I'd go outside. Plus, my girlfriend hates the smell of smoke so it made me ration out my smoke trips. 11/10 experience with these.
Matt H • 4/15/22
I got these for my boyfriend who used to be a smoker and has really missed it since quitting. They are light and smooth and the packaging design is beautiful. He was so excited to try these and he gives them a 10/10. Smell is pleasant, flavor is good. If you're hesitant to try them out, i recommend going for it and i really don't think you'll be disappointed!
Hannah • 4/7/22
They work.. I had a craving for a cigarette, I figure I would give it a try, I have 0 craving, it worked. My only issue is I smell like I smoked MJ, which I'm not a fan of. The taste was good overall, and satisfied the craving which is amazing. I say amazing because I've tried countless things and none ever stopped the craving.
Mel • 4/2/22
Hey all! I received my Oklahoma Smokes and am very pleased with the product. I have found that having a couple OK Smokes at night not only quells my urge for a "real" tobacco/nicotine cigarette, but the flower actually has a peaceful, calming effect on me. A smoking cessation tool as well as a sleep aid, perfect combination!
Steve B • 3/30/22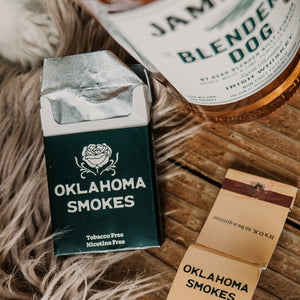 Relax and unwind
with high dosage CBD
No rush, just a calm, relaxing feel without a high or THC.